Organisational Analytics
Use objective data to inspire a culture of engagement, identify talent and develop leadership competence for high performance. 
Businesses use data to drive operational and financial performance and decisions as common practice – how many of us do the same for our people plans? Using advanced organisational analytics for PEOPLE means you can measure, identify, develop, and improve across individuals, groups, teams, business areas and behaviours using global and individual data to support people plans and drive action.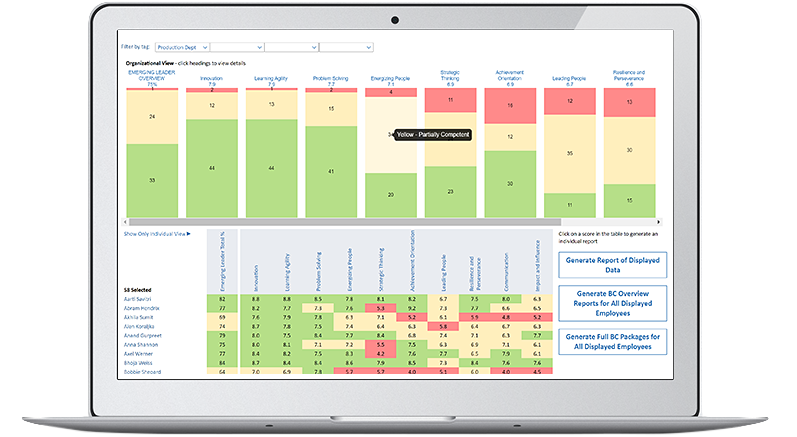 This is an example of organisational data you can gather for your PEOPLE.
Select groups to analyse by department, team, or manager using customisable tags and easily generate reports
Organisational data shows how a defined group/team measure against various competencies including leadership, emotional intelligence, remote working, and collaboration
Group data immediately highlights any team development needed
Individual data allows you to create development plans to help your people succeed in their role.
How objective data can support your people plans and business objectives:
| | | |
| --- | --- | --- |
| CULTURE: | TALENT: | LEADERSHIP: |
Assess your organisational culture and discover risk areas
Explore the impact of individual and group behaviours on team dynamics
Understand engagement and fulfilment levels across your business
See how individual's values align with your businesses objectives and goals

Easily pinpoint strengths and identify your High Potentials
Drill down to each employees' key factors
Retain your top talent by understanding what is important to individuals and groups

Measure senior and emerging leadership competency
Gain insight into the specific set of behaviours that impact each competency
Implement actionable development plans that provide guidance and generate enthusiasm
If you would like to discuss how Organisational Analytics can help support your business objectives and people plans please contact us.