Engagement and Retention
Measuring employee engagement and retention
Engagement and retention measurement is often subjective and unreliable and usually very expensive. Furthermore surveys are often anonymous in an attempt to raise the level of honesty in replies. This means that the data generated can at best give a generic view of the organisation/group being surveyed but offers no reliable data upon which to base development plans because there can be no consultative process with the anonymous group.
Harrison Assessments Talent Solutions (HATS) offers a new and fresh way to capture reliable data without the need for anonymity because the questions asked are in relation to working preferences and wants. Using the HATS SmartQuestionnaire™, data can be gathered for an individual, team, department or the whole organisation. It is then analysed and presented using 8 employee expectations which are directly related to engagement:
The Engagement and Retention Analysis provides objective data on the 8 sets of employee expectations laid out in the infographic above – Development, Remuneration, Authority, Social, Appreciation, Communication, Personal and Work Life Balance. Because this data is objective and not subjective it is highly accurate and when performed for groups can form a reliable source for designing reward schemes and ensuring that expectations are met.
The group Engagement and Retention report (for 30+ people) is our gift to you as an introduction to Harrison Assessment – we will perform this for you for 30+ people free of charge.
Please call Pat Hutchinson on 07768 922244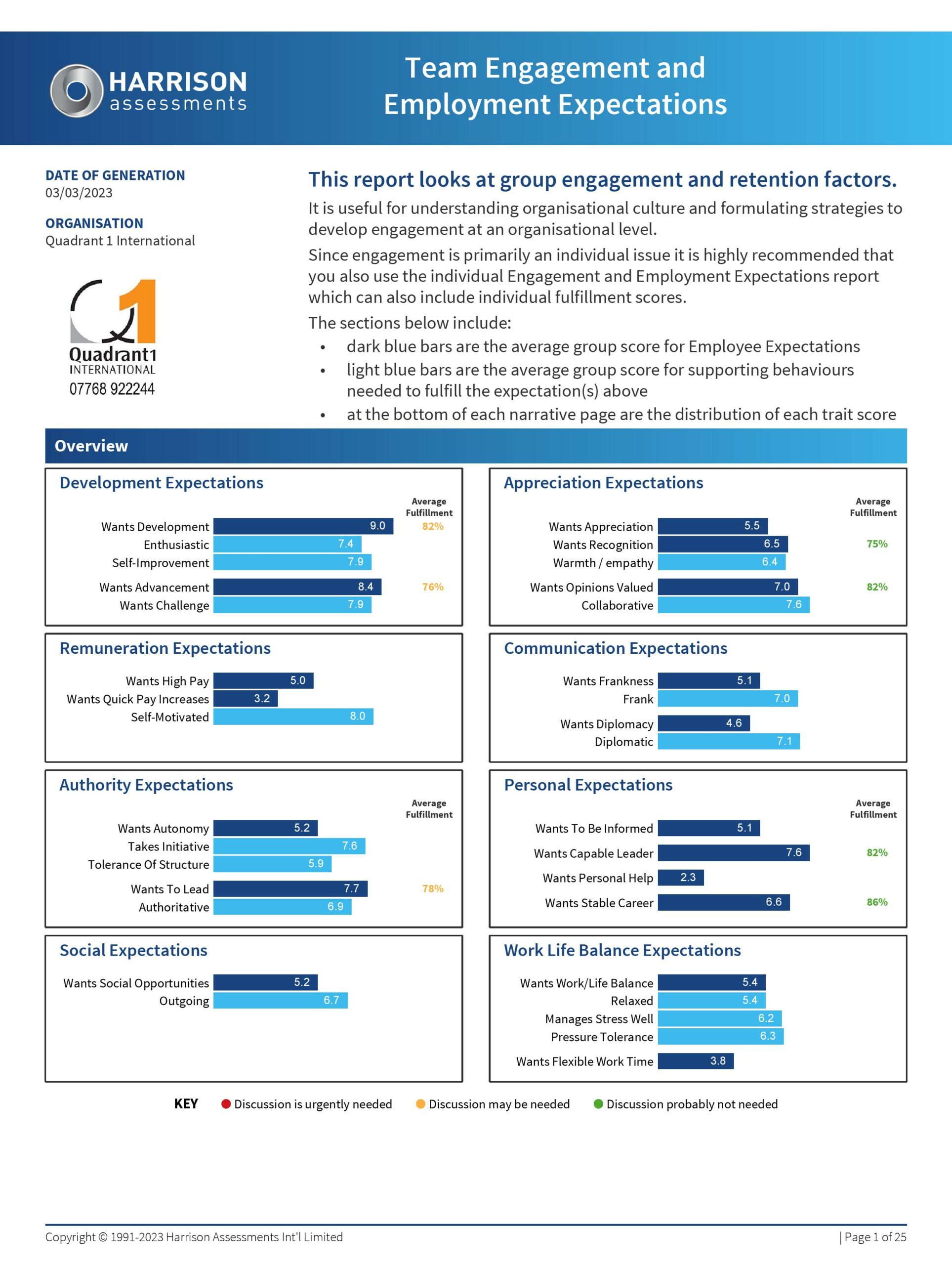 For more information on Harrison's Engagement and Retention solution, please click on the image below:

---
Find out what will really keep your employees engaged and performing well by measuring 8 engagement and retention factors in a non-subjective, highly cost effective way.
---
Employee engagement white paper
Employee engagement is a hot topic—and for good reason. Research studies from Gallup®, BlessingWhite®, and many more continue to demonstrate that employee engagement highly impacts key organisational metrics including talent retention, mission achievement, growth, and profitability.Engagement surveys are commonly used to assess the organisation's level of employee engagement. While this approach has proven valuable in many organisations, it has limitations in terms of improving individual engagement and creating a culture of engagement.
This employee engagement white paper will outline why this is the case and what is needed to achieve a greater impact on organisational performance metrics.
It includes some key areas relating to engagement in the workplace and a crucial 3-step guide to assist you with the application of engagement analytics.
Written by Dan Harrison, Ph.D. – Organisational Psychology, developer and CEO of Harrison Assessments, this white paper is a must read for anyone involved in employee engagement.
Request your copy of the employee engagement white paper: