Work-life Balance – what organisations do wrong






Work-Life Balance – Employee Expectations
In this second article on the 8 areas of employee expectation, and their impact on effective employee engagement and retention, we look at work-life balance.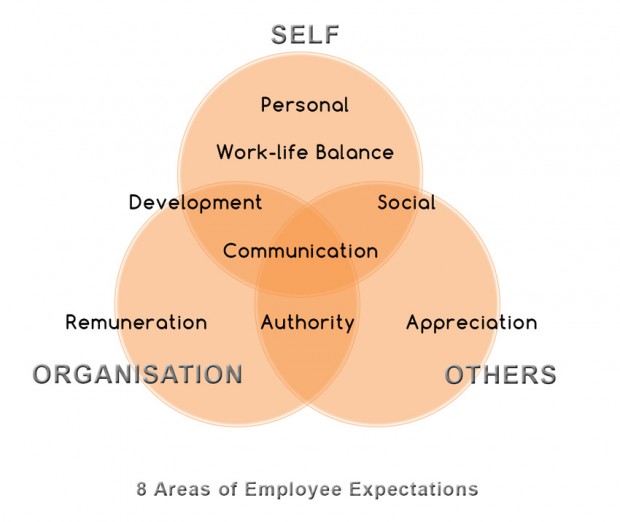 Although much has been said and written about work-life balance, the focus has been on organisation-wide policies and initiatives, but what about individual employee's real needs and those of their team colleagues?
The organisational view
Most organisations recognise their responsibilities towards their employees in maintaining a healthy work-life balance, and the long-term benefits that follow.  However, according to The Mental Health Foundation some 40% of us have neglected important parts of our lives because of work and slogging it out for long hours is likely to cause feelings of depression in nearly a third of people.
Today's workforce obviously wants to earn enough money to live on and also have the time to enjoy the fruits of their labours. Previously its importance grew with one's tenure; as we become more competent at our jobs our priorities also change, for instance, when we start a family or want to work closer to home. A new report from the Centre for the Modern Family, however, says only a third of UK families claim to have a healthy 'work family balance'.
However, for young people joining the workforce today work-like balance is just as important. Millennials, globally, are more likely than other generations to say it is important to receive paid parental leave onsite or subsidised childcare and telecommuting 1-2 days a week according to the EY Global Generations survey.
So what are organisations doing wrong?
Traditional engagement surveys have evolved from the old style satisfaction surveys which tend to have answers quantified on a scale in relation to generic questions, and are usually anonymous which further undermines their reliability. Traditional engagement surveys can't get into the specific expectations of individuals or groups in any detail, and so only measure broad perceptions of satisfaction.
To get it right the full range of expectations unique to every employee has to be captured, analysed and monitored on a regular basis. Proper expectation analytics in the hands of managers who believe in their people can start a meaningful, personalised conversation that can lead to high levels of engagement.
The group view
Organisational policies are great but how relevant to the group or team, and what is really important to them? Does everyone in the group have the same expectations and needs? Using Harrison Assessments engagement and retention analytics we can find out.

What can we interpret for this group?
it considers having work-life balance to be only moderately important
it considers having flexible work time to be reasonably unimportant
it has a tendency to be moderately relaxed and easy going
it tends to be moderately effective managing stress when it occurs
it tends to be moderately willing to deal with the pressure of tight schedules and deadlines.
The individual employee view
In a recent report from Investors in People's Job Exodus Trends a 34% of employees would prefer a more flexible approach to working hours than a 3% pay rise, and alarmingly 49% of the UK workforce are looking for a new job in 2016.
For line managers, understanding an individual's expectations as well as their own expectations and behaviours has never been more important to retain the best talent and develop their team's full potential.

Asking the right questions, and analysing each individual employee's real engagement factors ensures managers and the wider organisation provide an environment that retains the best talent. People want to feel recognised but there are many other factors that need to be understood if they are to further engage in their work and the overall success of the organisation.
---
What makes up Work-life balance?
Finding out how employees think about work-life balance, and its importance to an individual, is the starting point to measure whether organisational strategies are having the desired effect, and more importantly for line managers to identify potential issues. Here are five work-life balance elements that can be measured and reported upon from the Harrison Assessment:
Wants Work-life Balance
The desire to have sufficient time away from work for rest, enjoyment, or family
Most individuals, unless they are confirmed workaholics, want to be able to maintain a healthy work-life balance but this does vary between people. Some may be working hard to forge a career and climb up the corporate ladder, others might just want to come in and get the job done as quickly as possible. Some will not even realise that their work-life balance is off kilter and may need someone to point it out to them so they don't suffer from burn out.
Wants Flexible Work Time
The desire to have adjustable working hours or holiday schedules
One way of maintaining a good balance, of course, is offering flexible work time. This may important to certain individuals who have a family or are providing care for a sick or elderly relative, for instance. It could be less important to someone who is just out of college and is looking to push ahead with their career. Offering flexible working can be challenging for any organisation and implementing the right strategy is key to providing employees with the best option for their needs.
Is Relaxed
The tendency to feel at ease or calm while working
How relaxed an employee is at work can be an indication that they feel part of the team and are happy with everything that is going within the company. They get on with their work colleagues and have little in the way of issues that need to be settled. It is usually an indication too that they have a good work-life balance in place.
Manages Stress Well
The tendency to deal effectively with strain and difficulty when it occurs
We all encounter stress and for the large part this is a good thing. It's part of the challenge of working in a busy office where a lot is going on. When that stress becomes unmanageable, though, things can become difficult. An employee who feels they are having problems coping with work and the stress that comes with it is likely to be less productive and unhappy.
Has a High/Low Pressure Tolerance
The level of comfort related to working under deadlines and busy schedules
Tolerance to pressure situations is another area where useful employee information can be collected to find those who perform the best when the work is the most challenging. Those who are able to maintain a good work-life balance and manage day to day stress are more likely to cope with high pressure moments whilst others might need more support to help them get through these periods.
---
How Harrison Assessments Talent Solution helps
Managers can measure employee expectations, the intrinsic behaviours that drive individual and group engagement, by analysing the 8 key expectation areas. This helps to understand any differences between an employee as well as looking at the overall group or team's expectations. These insights facilitate the essential dialogue between employee and manager, fostering a shared responsibility for engagement to build a culture of employee engagement.
Managers can use the Manage, Develop and Retain report as a guide to getting the best performance out of an individual member of their team, and shows how mis-matched communication and management styles could potentially demotivate a talented employee. Instead the report suggests how best to develop and engage the employee, what type of tasks to delegate and behaviours to watch out for that could impede performance.
Employee Engagement White Paper
This employee engagement white paper will outline why this is the case and what is needed to achieve a greater impact on organisational performance.
It includes some key areas relating to engagement in the workplace and a crucial 3-step guide to assist with the application of engagement analytics.
Written by Dan Harrison, Ph.D. – Organisational Psychology, developer and CEO of Harrison Assessments, this white paper is a must read for anyone involved in employee engagement.  Request your copy here –