Shaping Talent for the next 10 Years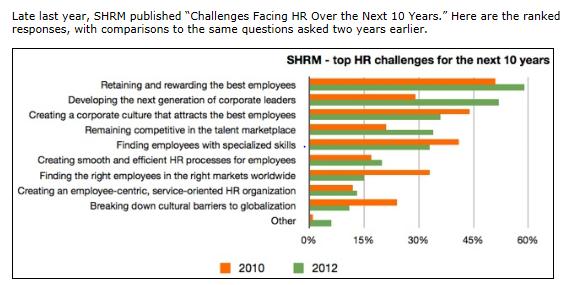 Late last year the Society for Human Resource Management published the results of a survey of the top HR challenges for the next 10 years. Participants were asked the same questions as they were asked two years previously and the results are shown above.
The results show some significant changes with developing corporate leaders, retaining and rewarding the best employees and remaining competitive in the talent market shooting ahead of finding the right global markets, breaking down cultural barriers and finding the right employees in the right markets. The results suggest that people are in the right place to do the job with the right skill sets and that the challenge is in recruiting, developing and retaining the best talent in a market that can virtually pick and choose.
The need for a talent management system which tracks talent shaping from recruitment through to succession planning is no longer a nice to have but a necessary part of corporate planning and development. This is further verified in the survey by the increase in the need for creating smooth and efficient HR processes for employees.
So what if you could  –
Increase your recruitment accuracy from 45% to 90% by introducing 175 job specific traits and working preferences
Automate your job application process in a system which rates applicants in order of

eligibility and suitability

(job specific traits) for a role
Automate your succession planning on line for all job roles not just the senior ones with applicants completing their own interest and rated in accordance with their suitability for the role
Use highly accurate paradox based reports for development and performance management
Use a 'cultural' profile within your appraisal system by which everyone is measured thus making previously difficult conversations for managers easier and more open.
Why Harrison Assessments?
High degree of accuracy with a consistency score preventing the use of inaccurate data
Uses paradox theory and 175 job specific traits and preferences to determine suitability as well as eligibility for a role.
Uses well known concept that enjoyment factor determines engagement and success.
Doesn't revert to 'norms'. No labels or boxes.
Online Questionnaire makes it easy to use, efficient and cost effective.
Range of reports for different uses – recruitment, development, interviewing, appraising, succession planning, culture development.
Takes the cost and uncertainty out of talent management.
For more information call +44 (0)7768 922244.