How to Sell with NLP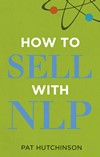 Learn the powerful techniques of NLP to enhance your influence and gain the competitive edge in any sales pitch. This practical guide to using NLP in sales includes real life examples to illustrate techniques that have amazed sales people with many years experience.
NLP has been used for years to help sales people all over the world to boost their communication skills and achieve success, time after time.  Now it's your turn to discover the most effective sales tool available.
Buy Now !