Become a Harrison Assessments Partner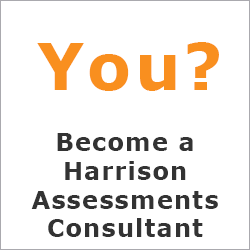 Are you a specialist in HR, recruitment, training and development, coaching or leadership?
We are expanding the network of Harrison Assessments partners across the UK and are looking for established teams or individual consultants interested in extending their service portfolio and client base with Harrison Assessments.
---

Key Facts:
Harrison Assessments has

over 2.2 million users worldwide
it is the most accurate, reliable and comprehensive Talent Solutions software on the market today
it can be used for talent acquisition, development, succession planning and employee engagement and retention

with 25 years of research and its unique technology it is recognised for being:

robust, highly accurate and very cost-effective
having been established a major market share in Australia, Asia-Pacific region and North America, now it is growing rapidly in the UK and Europe.
it is suitable for large multi-national organisations, SMEs and education establishments as well as for individual executive coaching projects
as a Harrison Assessments Partner you will have your own branded and fully functional Harrison System for use with your clients along with initial training and ongoing support.
---
Video Overview:
---
 Interested in a personal webinar?
If you'd like to see Harrison Assessments in action for yourself and discuss how it can add value to your services please call us today on 07768 922244, or alternatively contact us via the form below.