Join the UK Harrison Assessments partner network
Are you…
A specialist in HR, recruitment, training and development, coaching or leadership?

A consultant or team with an established customer base?

Interested in adding an exceptional one-stop talent solution to your portfolio which will add huge value to your clients?
Add value to your customers' businesses and become a Harrison Partner.

We are expanding the network of Harrison Assessments partners across the UK and are looking for established teams or individual consultants interested in extending their service portfolio and client base with Harrison Assessments.
As a Harrison Partner you will receive:
Free set of personal reports and 1:1 telephone feedback session from an experienced Harrison Consultant
Comprehensive in-your-own-time, online training leading to certification. Training consists of a series of short videos and quizzes of approximately 7 hours in total, plus a remote 90-minute Competency Demonstration with a Harrison Assessments Assessor
Your own branded Harrison Professional Coach system with option to upgrade to full Consultant Partner
Your own branded Harrison website – available to Consultant Partners

***SPECIAL AUGUST OFFER***

New partners joining before the end of August will receive an

additional 50 demo units

to help you build you business. T&C's apply.
Generous discounts are available on all units you use
Accredited certificates and digital badges that can be added to LinkedIn profiles, shared on social media accounts, and added to email signatures
Full ongoing support from Quadrant 1 International Ltd from day one, and invitation to join the UK Harrison Partner community
Total cost to become an up-and-running Harrison Assessments partner: £1800 + VAT.
the
A one-stop solution for consultants working to solve clients' talent management challenges.
Harrison Assessments is the perfect tool if you are working with clients across any of the 4-pillars of Talent Management.
Harrison Assessments talent solutions align people's qualifications, wants, needs, passions and goals to the requirements of the organisation and specific jobs.
This innovative approach supercedes general personality testing and other methods because it measures 175 factors, resulting in analysis and reports that target recruitment, individual development, succession planning and employee engagement expectations.
An automated web-based tool, its unique selling point is the access to an objective assessment of job-centric behavioural traits, competencies and preferences – in other words
'BEHAVIOURAL DNA'.
the
the
How the Accreditation process works: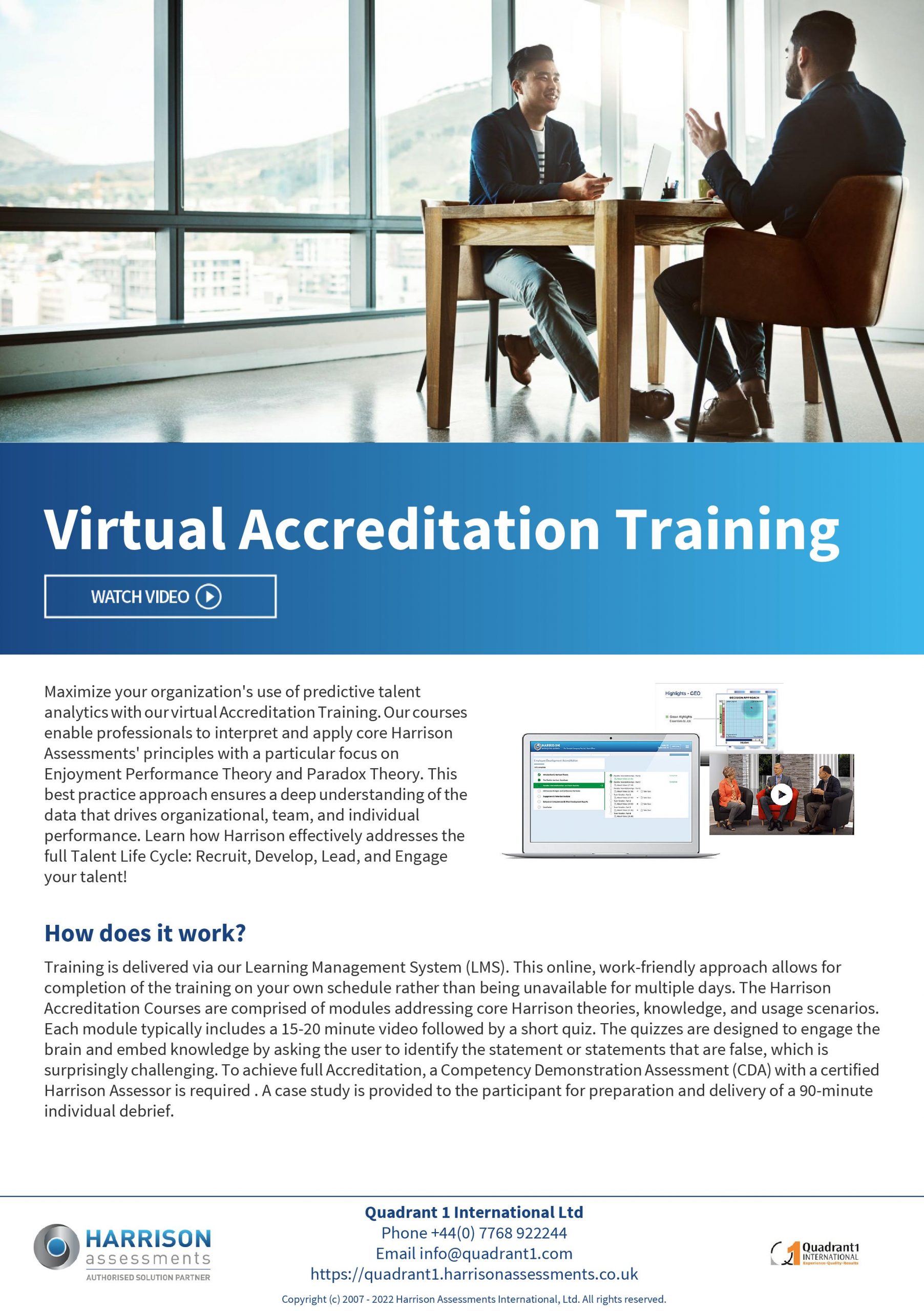 The Employee Development and Coaching and Debriefing modules enable professionals to interpret and apply core Harrison Assessments' principles with a particular focus on Enjoyment Performance Theory and Paradox Theory
Online, in your own time training via a series of short videos and quizzes designed to engage the brain and embed knowledge (videos approximately 7 hours in total)
Remote 90 minute Competency Demonstration with a Harrison Assessments Assessor
There is also an optional additional Recruitment accreditation for those who wish to specialise even further in recruitment (half cost if Modules 1 and 2 are already complete).
>> Download the brochure <<<
If you would like to know more about bringing the benefits of this award-winning tool to your clients and becoming a Harrison Assessments partner please complete the form below and one of our team will contact you. We look forward to speaking to you!